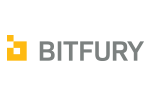 Bitfury
About The Bitfury Group
The Bitfury Group is the world's leading full-service blockchain technology company and one of the largest private infrastructure providers in the blockchain ecosystem. Bitfury develops and delivers both the software and the hardware solutions necessary for businesses, governments, organizations and individuals to securely move an asset across the Blockchain. In 2017, Bitfury launched Exonum, a custom framework that helps individuals, businesses and governments securely and easily bring their ideas and solutions to life.
 
About Exonum
In July 2017, Bitfury launched its open-source, enterprise-grade blockchain framework, Exonum. Exonum is the software framework that helps businesses and governments securely and easily bring blockchain ideas and solutions to life. It provides high performance in transaction processing and the unmatched security of the Bitcoin Blockchain. It also offers the technology's most attractive features like transparency and smart contracts. Exonum is available to anyone wishing to develop a blockchain-based solution and is already in use for a variety of use cases by Bitfury's award-winning software engineering team.