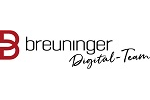 E. Breuninger GmbH & Co.
Fashion and IT? OF COURSE – Let's talk innovation!
Uns hast du hier nicht erwartet oder? Aber mal ehrlich: Mode und IT sind Welten die man selten miteinander verbindet, aber hier bei Breuninger tun wir genau das! Während wir unsere neue wegweisende Multichannel Plattform von Grund auf neu entwickeln, arbeiten wir an unserer IOS und Android App, Beacon Technologien, Data Science Projekten und einer Menge mehr! Nach dem Ansatz der Self Contained Systems arbeiten sechs Teams befreit von Fesseln, innovativ und ergebnisorientiert an dem Shop der Zukunft.
Wir sind immer auf der Suche nach DIR, denn wir haben in unserer vertikalen Organisation viele interessante Aufgaben – nicht nur für DevOps, App- und Software-Engineers, Product Manager und -Owner, die etwas bewegen wollen! Schau doch einfach auf Team.Breuninger.de bzw. direkt bei unsere Stand vorbei und lass uns über DICH sprechen!