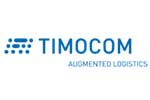 TimoCom GmbH
Erleben Sie die Vielfalt bei TIMOCOM
Die TIMOCOM GmbH ist der mittelständische IT- und Datenspezialist für Augmented Logistics. Als Anbieter des ersten Smart Logistics System für Europa hilft TIMOCOM seinen 40.000 Kunden mit smarten, sicheren und einfachen Lösungen dabei, ihre logistischen Ziele zu erreichen.
In unserer Full Service Inhouse-Entwicklung betreiben wir die gesamte Prozess-Range selbst: Strategische Konzeption, fachliche Ausarbeitung, technische Architektur, informationstechnische Umsetzung, Qualitätssicherung, Betrieb und die nachhaltige Betreuung.
490 TIMOS aus 34 Nationen bringen durch ihre vielfältigen Karrieren und Sichtweisen unser Unternehmen täglich erfolgreich voran.
Durch dieses Wachstum sind wir immer auf der Suche nach Talenten, die Spaß daran haben, Ziele gemeinsam zu erreichen und echte Meilensteine zu setzen. Engagement belohnen wir durch eine individuelle Förderung, Weiterentwicklungschancen und Wertschätzung.
Be part of IT: Jetzt auf jobs.timocom.de bewerben.