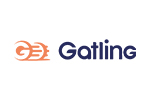 Gatling.io
Gatling is a powerful open-source load testing solution.
Gatling is designed for continuous load testing and integrates with your development pipeline. Gatling includes a web recorder and colorful reports.
Gatling's code-like scripting enables you to easily maintain your testing scenarios and seamlessly automate them in your continuous delivery pipeline.
Java, Scala, or Kotlin, the choice is yours!
with only a few machines, you can simulate hundreds of thousands of requests per second on your web application and get high-precision metrics.
At the end of your test, Gatling automatically generates an exhaustive, dynamic and colorful report.
Means and averaged data are not enough: with Gatling, you get proper percentiles of your response times' distributions. Don't leave your slowest users behind!
Automate your load testing campaigns thanks to Jenkins and deliver faster! You can monitor performance regressions after each commit.
Continuous load testing complements your massive performance testing campaigns. It is an essential part of your continuous delivery pipeline.
Running small and regular tests early on in your development cycle drastically reduces your debugging phase at the end of the funnel.
Time, quality, money: continuous load testing is your best ally to make better and faster improvements for your web application.