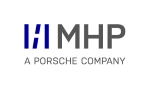 MHP Management und IT-Beratung GmbH
MHP is a leading international management and IT consultancy. We develop pioneering mobility and manufacturing solutions for multinational corporations, mid-sized companies and disruptive startups. As a premium business and technology partner, we are shaping tomorrow's digital future, today.
Our consulting approach is unique, combining holistic IT and tech knowledge with deep expertise in management. This makes MHP the ideal partner for a successful digital transformation. As digitalization experts, we deliver innovative strategies on the basis of strong analysis. These turn your change processes into sustained success.
Over 3,000 employees are driving digital progress in 16 locations worldwide, for over 300 clients. We display excellence at every level!
MHP: DRIVEN BY EXCELLENCE