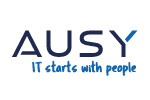 AUSY Technologies Germany AG
Die AUSY Technologies Germany AG ist ein führender Anbieter von kundenspezifischer Softwareentwicklung und Beratung. Als agiler Enabler steigern wir die Effizienz und Wettbewerbsfähigkeit unserer Kunden. Unsere Expertise basiert auf dem Zusammenspiel von engagierten Menschen und innovativen Technologien. 
Denn wir sind überzeugt: IT starts with people. Mit begeisterten und engagierten Menschen, die gemeinsam Großes bewegen wollen. Menschen, die getrieben sind von Neugier. Von Visionen. Und vom Wunsch, das Leben und Wirtschaften in unserer Gesellschaft jeden Tag ein Stückchen besser zu machen: mit innovativen Ideen und zukunftsweisenden Technologien.
Shaping the future with our clients! – das ist unsere Ambition. Wir sind branchenübergreifend für Kunden in Deutschland, Österreich und der Schweiz tätig. Unsere fachlichen Schwerpunkte sind Automotive, Financial Services, Telecommunication sowie Travel, Transport und Logistics. Zu den Kunden gehören unter anderem BMW, Daimler, Porsche, BNP (Consorsbank, DAB Bank), ING, Telefónica, Deutsche Bahn und die Stadtwerke München.